I think these nice thoughts from a friend of mine, Deidre, reflect the feelings of all of the first generation fans. The Monkees have a magic all their own that has a hold on us, and makes us love them together, and individually....
&nbsp
"I Turn Around"

By Deidre
I've forgotten about you guys so many times.
I'm sorry about that, but I turn around and you're still
there:
A British charmer of a showman,
who really wanted to be a jockey;
A Connecticut Yankee genius with musical instruments
and flashing dimples;
A wild California boy, all teeth and curls,
who always felt his music strongly;
A Texas twang hiding the astute businessman
and sad love song creator extraordinaire;
All wonderful musicians and actors all.
I turn around and you're still there:
Oh sure, nowadays it's called a revival;
but the fans--we don't really forget.
Maybe in our heads,
but not in our hearts--
The influence your music and your shows had on us
still reverberates throughout our everyday lives.
I turn around and you're still there:
past or present, laughing and pulling pranks,
playing in the sun, running crazy on the set,
forming bonds of friendship and love,
cracking up in the studio,
entertaining in concert,
making sweet music:
Love songs, loud songs,
fun tunes, show tunes,
country rock,
and rock-n-roll.
In my mind and on the tapes,
you're still those twentysomethings
in that alternate universe of fun and frolic,
still waiting for that big break,
where the sun always shone on a warm California beach,
and where kids wore mod clothes,
and didn't do drink or drugs.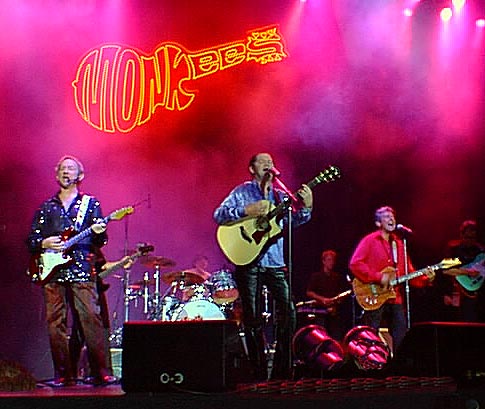 When in reality,
you've grown older,
along with me,
in the non-fiction world.
Acquired some learning and wisdom along the way,
dealt with grief and bad times when you couldn't buy a job.
Fame and fortune have come and gone
not once,
but several times.
But I still feel good about some of what happened;
I hope you guys do too.
We have the music to listen to,
and the old appearances to view,
and there are new appearances on the horizon,
and new music to look forward to.
You guys go on still doing what you do best:
making music,
writing books,
painting pictures,
training horses,
making movies,
entertaining us,
and hopefully,
making your own selves happy...
as well as family,
friends, and fans.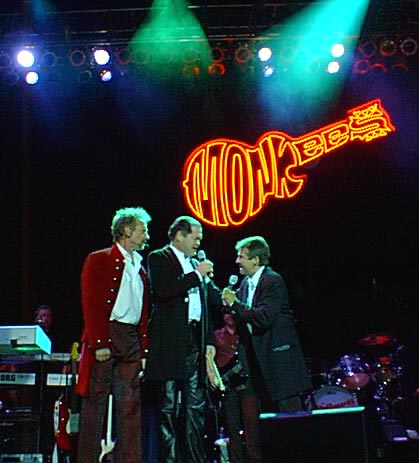 Thanks for what's past
and what's to come.

&nbsp

Love,
Deidre
July 6, 2001

&nbsp

Photos by Robert Wynne
Knoxville, TN, July 2001 - More here!

&nbsp

My Cat's Website!(and a little of Davy's cats)

AS HE STANDS THERE, A POEM FROM STEPHANIE"

TO KISS A GOD - WHEN I MET DAVID!

ANOTHER DREAM COME TRUE--THE HUG!

A TEENAGER'S IDOL, TARA'S STORY!

HOW WE FEEL-A LETTER TO DAVID!

ST PETERSBURG TIMES INTERVIEW!

ANOTHER ST PETERSBURG TIMES INTERVIEW!

AN INTERVIEW FROM DAVID'S HOMETOWN PAPER!