By Celine Allan
&nbsp
Here is my account of finally meeting my HERO of 20 plus years. I have met David several times since then, (always an experience NOT to be forgotten!) but ya know what they say about the FIRST TIME!
&nbsp
It happened in July of 1987 after the Monkees' Dallas concert.
&nbsp
My sister and I had seats near the front and after the show we saw people with backstage passes going through a gate which led to back where the tour buses were.
My sister noticed a hole in the fence up near the stage, and told me that it was now or never time....
Either I sneak through that hole or forget my life long wish of meeting David.
Easy choice.
I squeezed through the fence, ripping my dress and getting mud all over my sandals in the process.
Undetected, I fell right in line with the others going into the tour bus.
Peter greeted us at the door. I saw Micky joking with someone in the corner. I saw Anita and the kids sitting next to the wall. But no David at first.
I panicked that I would have to leave before I found him, but at about that same moment I heard his voice and looked up to see him talking to someone about the sound system.
He was wearing the same hot pink tank top that he had been wearing on stage at the show's end.
I almost froze, but finally managed to touch his arm and say, "Hi. I'm Celine Buford and I have been wanting to meet you for the last 20 years."
"I just snuck through a hole in the fence, ripped my dress, blah blah blah to meet you."
He said it was nice to meet me.
Then I asked, "Would you please do me a favor?", to which he replied, "Sure."
I shyly asked, "Would you please give me a hug?"
His response was to put both arms around me and hug me tightly to his chest.
I thought I had died and gone to heaven.
I could hardly talk when he let go .
All I could say was,
"Thank you! Thank you SOOO much!"
I was trembling and shaking like crazy and David said,
"No, thank YOU sweetheart!"
I will never forget that moment in my whole entire life.
Thanks, David!
&nbsp
Celine
---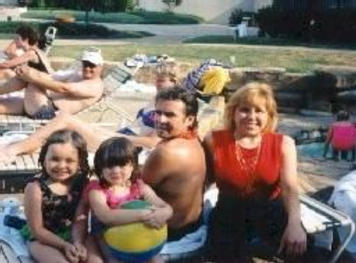 &nbsp
Savannah, Lamar, A Sun God, and Celine

&nbsp

David never fails to win the hearts of those who meet him! Her life was changed forever just like the rest of us.
---
---
&nbsp
The next page is a teenager's story of meeting her idol, which just happens to be THE Teen Idol we have loved for 30 years!TARA'S STORY (CONTINUE THE TOUR!)
BACK HOME!
ABOUT THE FANS!
THE NEW YORK SEMINAR!
A KISS FROM A GOD!
THE DAVY JONES LEGACY!
HOW WE FEEL-A LETTER TO DAVID!
A PSYCHOLOGIST'S VIEWS!
LOVE POETRY TO DAVID!
THE DUEL WITH PETER NOONE!
DAVID'S CHINESE HOROSCOPE!
ST PETERSBURG TIMES INTERVIEW!
SEND A DAVY POSTCARD!!
DAVID'S HOMETOWN PAPER INTERVIEW!
A REVIEW OF THE JAPAN TOUR!!
New! 5/99! AN ORIGINAL POEM BY A FAN--YOVA'S PAGE!
GUESTBOOK & LINKS!