By NATALIE NICHOLS

© St. Petersburg Times,
published December 4, 1998

&nbsp

Even over the telephone, Davy Jones exudes the same easygoing charm that entranced teenage girls more than 30 years ago, when he first became a Monkee.

After Elvis and James Dean, and before David and Shaun Cassidy, Jones held legions of girls and young women spellbound. The 52-year-old bachelor (He turned 53 on Dec. 30) still has a way with the women.

Jones is currently performing selected dates with two other '60s heartthrobs, Bobby Sherman and Peter Noone of Herman's Hermits, on the "Teen Idols Tour." They stopped at Clearwater's Ruth Eckerd Hall on Saturday December 5th, 1998.

Jones originally began performing as a youngster because it gave him a reason to get out of classes. By 14, when his mother died, he left school altogether and quickly found himself a rising star of British stage and television. American recognition came next. He played the role of the Artful Dodger in the Broadway production of Oliver!, gained a recording contract and made an appearance on the Ed Sullivan Show the same night as the Beatles' American debut.

But it was the Monkees that made him mega-famous. He was cast as one of four silly guys who just happened to make music in a zany, innovative half-hour television show that ran from 1966 to '68. While being a Monkee made him a household name, it also gave him an image he could never fully shake.

"I was a Monkee when I was 20," Jones said in a recent interview. "The Monkees are like the mafia. You're in for life. Nobody gets out." Jones went from fame and fortune in his early 20s to finding himself typecast because of his boyish looks and madcap Monkees image. While he has continued to perform and briefly reunited with other Monkees Mickey Dolenz, Michael Nesmith and Peter Tork for a new recording and tour in 1996, Jones found that performing was never his main focus. He likes it; it pays the bills. But it's not always his passion.

&nbsp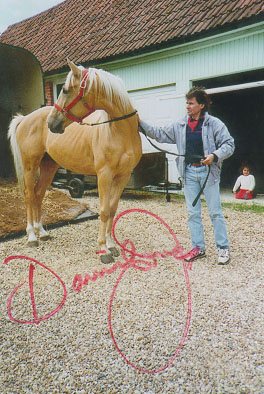 nbsp; &nbsp
&nbsp
What he loves to do is race horses. So much, that for his 50th birthday, he gained his jockey's license. He keeps a few horses at his Pennsylvania home, where he has hand-laid a racetrack and rides as much as he can.
"Jumping races are my focus," Jones said. "In 1999, I'm going to get my training license. Before I was an actor I was an apprentice jockey, and now I'm out there racing against boys, sort of the spokesperson for people over 50 that they can do it. It's something that takes me totally away from what I do as an entertainer. Nobody knows there's a Monkee on the horse's back."
Jones says two divorces have left him far from a rich man. In fact, during his post-Monkees, post-fame and fortune days, he could be found in England working in stables for a little over $20 a week.
"I decided I'd had enough of it all," Jones said of show business. "You can put me in the basement or the penthouse; it doesn't matter to me." Jones said tabloid magazines had a field day describing his plight. "I went out to escape, and they said, "Here's Davy Jones, living in a mobile home in a field in the middle of a forest with horses out the back door and chickens. Poor Davy. He used to be a star.' If I wanted to, I could have been in the limelight instead of having my face in horse manure at 7 a.m."
These days, Jones performs as much as he can and is anticipating the right project to restart his career. He has found some balance, although he still longs for recognition of his talent instead of his face. Realistically, he knows that may never come. After all, this is the guy who got angry letters for years after he took Marcia Brady to the prom on the '70s situation comedy The Brady Bunch.
"I got hate letters from girls all over America because I wouldn't go to the prom with them," said Jones, who takes time to read his fan mail almost every day. "And I still get letters every day that are the same letter from 52-year-olds, 22-year-olds and 10-year-old little girls. They always say how much they love me and include a picture of themselves in tight jeans."
Now Jones, the father of four daughters ages 10 to 30, would just like to make peace with the Monkee on his back. He has a book, Daydream Believing, coming out in early 1999, will continue to tour some dates with Noone and Sherman, and awaits a future that may or may not include the Monkees. The four split again in 1997 over creative differences, but Jones doesn't rule out another collaboration: "I would never say never. I just have this urgency that something will come along and it will be right."
&nbsp
&nbsp
© Copyright 1998- St. Petersburg Times.
All rights reserved.
---
---
&nbsp
---
---
David, for someone like you, it always will!!!
We Love You!!