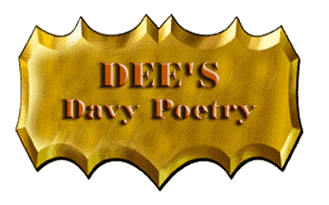 I recently received three very nice poems for the site. Dee is a 2nd generation fan, and....well, here's how she describes herself. Enjoy! "My Name is Dee Brunelle. I'm 32 years old and I'm from Massachusetts. I'm also a member of Davy Devotees Official Fanclub for Davy Jones. I've been a fan of Davy's since I was little. When I started watching The Monkees as a little girl, I absolutely fell for him.and my mom bought me my first Monkees albums. I've loved him ever since, and I still do, more than ever."
"I went to my first Monkees concert in March 2001. It was a dream come true. I remember a girl sitting next to me, and she said "Boy that Davy Jones is still a real hottie". She's 100% right!"
&nbsp
&nbsp
&nbsp
IN DAVY'S EYES In Davy's eyes there is such a gentle glow
They speak to you in such a sincere way
I can see the compassion, the love and his strength.
With all that there is so much he's gained.
His eyes have a mysterious darkness yet only a ray of light
He looks as though he's so deep in thought.
There are so many people in his life he has in his own way taught.
He knows no one can take that away from him.
In Davy's eyes, no day is ever grim.
His children mean the world to him.
When they were young they'd fall asleep in his arms,
to his gentle soft voice as he sang "Daddy's Girl".
He loves his family and his fans too.
There is nothing Davy wouldn't do.
To keep us happy and put a smile on our face.
Thats why, to me, Davy takes first place.
I know he loves them with every beat of his heart.
His eyes tell me, "Don't worry love, we'll never part".
In Davy's eyes, I could see so many things.
He cares about friends that are beneath his wings.
I remember the day, I remember the place.
I remember the thrill as we stood face to face.
I remember Davy's eyes, so sweet and velvet brown.
Boy, that man has a gorgeous frown.
He held my hand so gentle, and that I won't forget.
But, had I only spoken, we would have actually met.
Thats why I love Davy, I mean it more than words can say.
His eyes are beautiful and full of so much life.
Beautiful in my eyes, Davy will forever stay.
&nbsp
NO LONGER JUST A DREAM
(Poem by: Dee Brunelle, Title by: Jean Mank)

You're the sun, you're the moon.
You're the dew on a sweet smelling rose.
You haven't felt anything your friends and loved ones already see.
But to have a path of beauty in this life,
We begin by knowing who we are, and who we will one day be.

To have a dream as a child and have it come true.
That's when people get to know the real you.
Your racing, your winning, for what you love most.
It all just makes sense.
The feeling you had when crossing that finish line in first place.
That must have been so intense.

Whatever reason you decide to race again,
you'll always be a winner in our book.
Because, with your ambition and strength, you take it to heart.
To believe in yourself and you knew you could do it,
thats all it took.
A wonderful guy like you does not have to prove it.

&nbsp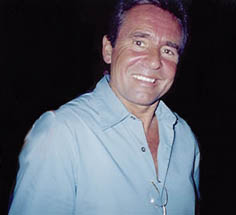 THROUGH ONE'S SHADOW

Everyone has a shadow, though in Davy's,
lives unlimited passion, inspiration
and a connection with the devine.

With his love for animals,
he is driven to the deepest of nature.
He blazes trails and sets trends
with fearlessness, initiative and a burning desire.
He definately has the gift to inspire.

Everything is possible at anytime in your life.
All you got to do is decide that that's what you want to do.
As Davy said, some time ago,
His own example of faith cannot help but attract
others to his cause in life.

I bet he's a wonderful guy to get to know.
His friends don't know how lucky they are.
Seeing Davy is like looking upon a shinning star.
A man with a deep spirited soul.

&nbsp

Many thanks for sharing these with us, Dee!

&nbsp

THE NEWS PAGE!

My Cat's Website!(and a little of Davy's cats)

AS HE STANDS THERE, A POEM FROM STEPHANIE"

TO KISS A GOD - WHEN I MET DAVID!

ANOTHER DREAM COME TRUE--THE HUG!

A TEENAGER'S IDOL, TARA'S STORY!

HOW WE FEEL-A LETTER TO DAVID!

ST PETERSBURG TIMES INTERVIEW!

ANOTHER ST PETERSBURG TIMES INTERVIEW!

AN INTERVIEW FROM DAVID'S HOMETOWN PAPER!