Welcome to my world of glamourous feline girls and guys....I decided it was time to have a website to show all my exceptional feline friends, and to remember those who have gone to Rainbow Bridge.
As we all know, CALICO cats are the preferred cats. We are smarter, tougher, and much more beautiful than any cat with only two colors. Some of my friends are not as lucky as I am, but they are still quite glamourous, so they will be included here as well.
But, back to ME...my Favpurrite subject, of course.
My name is Calico Leigh Lee. I was a very mature lady of 16. I used to be VERY plump. In fact, I weighed almost 30 lbs. But Mama said I was just "big-boned". I was quite sophisticated, naturally, and I knew I was a queen. My mom bought a condo FOR ME...all the windows were my height. I made sure she got a screened in porch so I could watch the birds, and I glared at any of the "ordinary" cats who dare to even glance in my direction. I was tough as nails, too. I would take on anything that looked like another cat. And with my size...well...I usually scared the stripes off even the toughest old tom cats. Opossums were another story...but we won't go into that..heehee.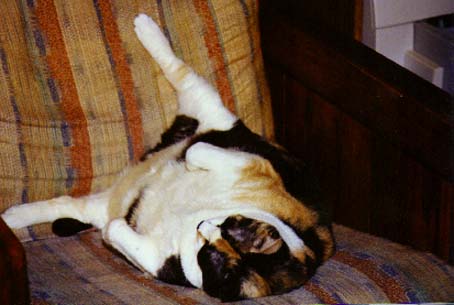 Here I am in one of my typical positions. Aren't I fabulous?