The New York Daily News
March 11, 2001
Our friend and fellow fan Stephanie found this article in her area newspaper. It's a nice article....but a surprise was in the last paragraph! For ease in reading, here it is in regular print. But for the ending, I've enlarged the actual article. See for yourself what news awaits!

&nbsp

Hey, hey, the Monkees are in town BY PATRICIA O'HAIRE

"HERE they come....walkin' down the street..." If you remember that line,
you remember the Monkees. You're a believer. And there's a lot of you out there,
because here they come again.

Three of the original four goofy but lovable Monkees - Peter Tork, 59, Davy Jones,
and Micky Dolenz, both 55 - are headed for Atlantic City's Taj Mahal for two shows
this weekend. They will appear Friday and Saturday, bringing with them a bit of
nostalgia, a few sing-along songs, and a lot of corny jokes.

"We are the group that will never die," claims Jones (The cute one).

"We've had great audiences," he says of the current tour. "People remember us.
We have a new album we're getting ready. We've already recorded three tunes,
and we'll be recording more while we're in Atlantic City. It's kind of exciting
after years of doing nothing."

Born in Manchester, England, in 1945, Jones came to America to appear in the
musical, "Oliver!" in 1963. He was nominated for a Tony for his performance
as the Artful Dodger.

He joined Dolenz, Tork, and Mike Nesmith in the cast of the legendary NBC show,
"The Monkees" (1966-68) when he was only 20. Only Nesmith and Tork had played
much music, and the group wasn't allowed to perform in the early days, which
led to dissent.

Although they broke up after the show ended, Jones, Dolenz and Tork have
frequently revived The Monkees. Nesmith has pursued other musical avenues,
mostly as a producer.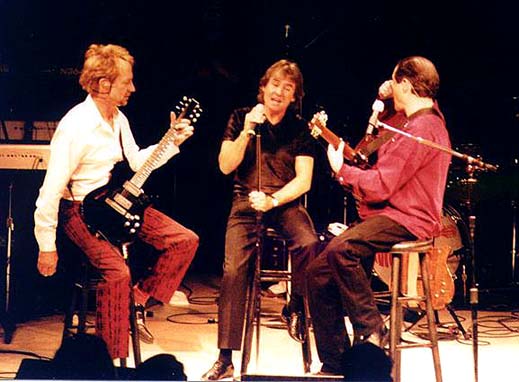 "We're still active as a band," said Jones, "like Crosby, Still, Nash &
Young. Hopefully, the general public will be interested in our new album.
We have a great bunch of guys touring with us - a real boy band. They play
their own instruments and we love having those young guys with us. They
bring in the young audiences - especially girls. Do you know I'm the only
good-looking young guy left over from the '60's?
"Actually, it's great for us to be out working together again and we're busy
trying to make it work for us. We're trying to be a little more adult this
time, not so cavalier."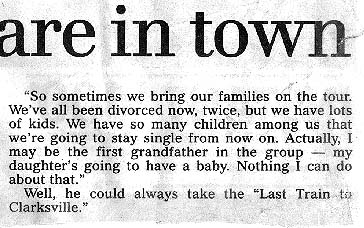 Well, there you go! So Davy is going to be a GRANDFATHER????
&nbsp