She was a staff writer, and now "Presentation Editor" of a Florida newspaper called
The Palm Beach Post.
Her daughter Kate had somehow recognized me from this website, and Jan
came over to talk to us and interview us for the article you will read below.
Jan became a good friend to Davy and always wrote about the positive things he and the other Monkees represented...unlike some of the other so-called "journalists" who thrived on their fights and problems.
Jan Tuckwood is a class act, even if she thinks she's "square".
Remember luv? That combustive emotion produced when hormones and hysteria
collide? Not quite love, not quite lust . . . but an innocent combination
of the two that hits with the force of a storm surge, usually when a girl
devours way too many 16 magazines and kick-starts her femininity to full throttle.
I'm not proud of my addiction, but as 16 once assured me: Luv has no pride.
Luv also has no limits. And once you find luv, you just can't let it go, even
though you grow up and learn to hide it, mask it with a veil of aloofness, stunt
it with a semblance of sophistication.
Luv is what makes 45-year-old women get all jiggly inside and shriek,
Oh, my God! There's Davy Jones! Davy! Davy! Davy! at sold-out Monkees concerts
all over America. So what if Davy Jones is 55 now. He's forever filed under
"Groovy" in our memory banks.
So this summer, when my 14-year-old daughter became enamored of a boy band --
Natural, the opening band for The Monkees' 2001 tour (yes, in a clever
marketing ploy, they packaged a Boomer band with one for the kids) -- I
empathized. In fact, I fueled her estrogen-soaked obsession with nine simple
words: "Sure, I'll take you to see Natural in concert."
Again. And again.
Sure, I'll spend thousands of dollars to go to three concerts in July --
in Myrtle Beach, S.C., Fort Myers and Sarasota -- plus two mall appearances
and a Planet Hollywood stop in Orlando. Sure, I'll buy you as many costume
changes as Madonna. Just so you can meet Natural and make this one summer
you'll never forget.
My husband calls this stalking. I prefer to call it strategic scheduling.
Either way, my kid and I had quite the girly adventure. We're still screaming.
Five hotties to go, please.
Did you ever witness pure devotion? That goo-goo, ga-ga kind of goofy devotion?
Grown-ups let that sap spill out for just two kinds of people:
Babies and teen idols.
My daughter Kate knows I grew up adoring The Monkees, so she was understandably
afraid that I would uncork my inner dork and embarrass her when we went to
The Monkees' concert in Pompano in March. (We're talking the original Monkees here --
Davy Jones, Peter Tork and Micky Dolenz, minus Mike Nesmith.)
Instead, Kate dropped all of her own pretenses and found herself possessed by
unbridled Luv.
One look at the opening act, Natural -- mega-producer Lou Pearlman's newest
boy band -- and Kate had a single mission in life: to see them again.
The five Natural guys are even cuter than Pearlman's former clients 'N Sync,
and they play their own instruments. Their talent is almost as important to my
daughter as drummer Michael Johnson's awesome hair and fingernail color (blue),
keyboardist J. Horn's soulful smile, the buff bodies of guitarists Marc Terenzi
and Patrick King and the wicked-sweet blue eyes of her fave, bass guitarist
Ben Bledsoe.
Propelled by luv and the Internet, Kate soon knew Natural's every move. By May,
when The Monkees and Natural announced a summer tour, Kate had a new circle of
friends, all Natural fans. One of her e-mail pals -- Ilana Fishof, teen daughter
of the producer of the tour, David Fishof -- provided juicy insider info
(Ben wears boxers!) that bonded the sigh sisters.
Kate also discovered what happens to luv-struck teens: Some of them stay so
enamored of their idols that they launch fan clubs and Web sites.
Even "worship sites," as in the case of one Davy fan, Jan Chilton of
Myrtle Beach, S.C., who has an elaborate site dedicated to "the most handsome,
sweet, talented and wonderful man on the face of the earth."
My family happened to stop in Myrtle Beach for a reunion the same week
The Monkees and Natural were appearing in concert there at the House of Blues.
Before the show, Kate and I spotted a table of Monkees fans having dinner,
including Chilton, whom my daughter recognized from her Web site.
So, I asked her: Why "worship" Davy Jones?
"Simple", says Chilton, who devotes one room of her house to Monkees memorabilia:
"He was our first love, and he makes us feel young again."
One of her dinner companions, Gail Friel, came all the way from Maryland for
this night. She works three jobs to earn cash to travel to Monkees concerts.
"We call it our Dollars for Davy," Friel says.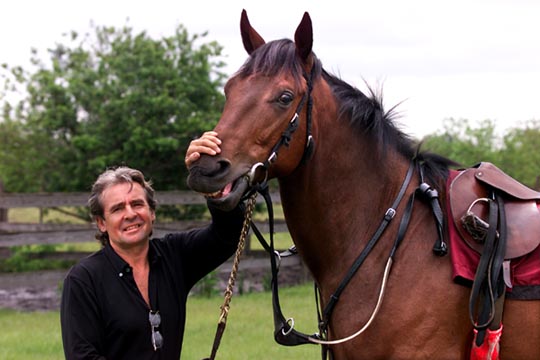 The object of their desire knows many of his devoted fans by name.
In the '60s, Davy Jones received 10,000 fan letters a week, and some
of those girls have remained persistent.
"It's become a social thing for them," Jones says of this traveling
band of fans. "They make friends, make plans to meet each other at concerts.
I don't think it's really about me anymore."
Yeah, right, Davy -- and you're 6-foot-2, too.
Chilton gushes her endless luv on her Web site:
"I don't know how that man can look so GOOD!!! He is just the most
incredibly handsome man I've ever seen in my life! When he sings the
old Monkees songs, he transports us back to being the innocent little
girls who loved him enough to want to die 30 years ago. I don't think
any man can understand how our hearts ache to see and hear him, and relive
our youth that way! It's a wonderful feeling, and will explain why I would
travel thousands of miles to see him!"
Hose yourself down, woman!
Getting Davy Jones
But I have no room to talk.
Not after I paid $75 a ticket for that Myrtle Beach concert, then drove Kate and
a friend of hers to two malls on Florida's west coast just so they could get CDs
signed by Natural, then went to two more concerts (one of them, a sold-out
performance at Sarasota's fancy Van Wezel Hall, cost $80 a seat).
Not after I shamelessly chased Davy down on his bicycle.
We had gone to the theater in Fort Myers early to find the box office. On the
way out, we see a middle-aged man on a bike. No big deal at first glance . . .
but on second glance, my daughter yells: "It's Davy!"
So, I whip the car around and follow him through a grocery store parking lot.
I felt stupid -- but, hey, if I were cool, I wouldn't be admitting any of this.
Humiliating honesty is a hallmark of the Uncool, and I am Uncool. I am so square
that the last thing I smoked was a ham.
Davy knows me from a story I'd written about him and the horses he trains in
Indiantown, so he says: Hey, why don't you guys come on back over to the
theater and have dinner with the band?
And that's how we ended up backstage with our teen idols.
Mother and daughter. Just gals. Groupies-in-training. Hangin' out during the
sound check. Trying to act nonchalant. Chatting with the lighting guys.
Talking to Natural like it was all just . . . natural.
Our almighty backstage passes gave us the power of Moses, parting the sea
of Monkees fans crowding the stage door.
Excuse us, we're with the band.
We felt Almost Famous.
Beware of projectile panties.
The Monkees seem to have two types of fans: The diehards who clutch old
albums to their chests and don baggy Monkees T-shirts from the group's
previous tours, (they've been around for 35 years, after all, ever since
their TV show debuted in 1966)
and aging ingenues who are trying hard to look good.
You know, tight pants, seductive tops, hair blow-dried just like it was
when they were 25.
Why the primp fest? Who knows? Maybe they think they still have a chance to
marry a Monkee.
(Memo to other 45-year-old Monkees fans: You were too young for them in 1966,
and you're too old for them now.)
I noticed this at the recent Donny Osmond concert at the Kravis Center, too.
The women in that audience were so lipsticked and lacquered that they looked
as if they were trying to impress an old boyfriend. And, in a way, they were.
"It's a fascinating social phenomenon," says Michael Devlin, senior director of
communications at the Rock and Roll Hall of Fame, "how as kids mature, the
boys gravitate to the aggressive sounds of Led Zeppelin and the girls get all
weepy and clutch photos of stars like Donny Osmond."
But surely these grown-up fans aren't serious about scoring with these guys?
Well . . .
"During the last tour, we filled one-and-a-half jumbo garbage bags -- the huge,
black ones -- with underwear that had been thrown on stage," says Davy's
19-year-old daughter, Jessica, who's assisting The Monkees' producer on tour.
Not an enormous white cotton pair in the whole pile.
Last train to Kidsville
Longing is an everlasting part of luv.
When I was a kid, I longed for The Monkees. Now, I long to be a kid.
And that's the real reason I spoiled Kate rotten this summer and indulged
her pre-womanly whims.
It's fun to dance, to act stupid, to scream, to drop the baggage of adulthood.
It's fun to fall in luv.
I'm glad my daughter is girly enough to act giddy. Some teens are already jaded
by her age, like one punked and pierced girl who snarled at a group of Natural
fans waiting for their heartthrobs to appear at a Fort Myers mall.
"Look at all the ballistic teenagers, waiting in line for something so dumb,"
she said with a dismissive nod of her spiky-haired head. "I'd like to bash in
their heads with a hammer."
Too bad, I thought. The world had already gotten to her, with all its cynicism
and self-consciousness. Already, she had decided to diss innocence. She had
discovered it's not cool to drool.
Still, she hung around, waiting for the band.
Maybe deep down, under the hard exterior, she, too, longed for luv.
Maybe, deep down, all of us have a luv lust just crying ---
or shrieking hysterically -- to get out.
As one of my friends (a former member in good standing of The Partridge Family
fan club) says, "Everybody's a dork inside."
fanclubs
Looking for your idol?
Check the Internet
The Internet has changed the world of faves, fans and fan clubs.
For example: Pat Boone's official fan club started in 1956 and has 125 members.
Natural's official fan club on Yahoo.com started less than two years ago and
has nearly 600 members.
The boy band's fans can visit Yahoo and chat with other Natural fans
whenever they want (check out www.clubs.yahoo.com/clubs/natural).
Other stars have fans on Yahoo, too -- from Faith Hill to Bette Midler
to Puff Daddy.
And most stars run their own Web sites in addition to dozens of fan sites
and clubs. Jackie Myers, 21, an aspiring journalist from Orlando, runs
Natural's Yahoo site. She's been a fan ever since she met Natural in 1999,
and she and friend Cindy Westmin (who is known online as Cindy L. Bledsoe
because she's in luv with Ben Bledsoe of Natural) were among hundreds of fans
featured in Natural's new video for their first CD, Put Your Arms Around Me.
Debbie Sunseri of Metairie, La., runs Davy Jones' Davy's Daydream Believers,
which is linked to Jones' site (www.davyjones.net). Like Myers, she's gone
from being a fan of her idol to being a friend.
"Sometimes I still can't believe it," Sunseri says.
"Here's a man whose face was once on my bedroom wall, and now he knows
my name. Somebody pinch me."
Rock Hall of Fame
wants your tales of luv
The Rock and Roll Hall of Fame might not want to induct The Monkees --
but it does want a Monkees lunch box!
Next spring, the hall of fame and museum in Cleveland unveils a major exhibit
devoted to teen idols, from Ol' Blue Eyes to the Backstreet Boys.
"We're going to look at the impact of pop music on generations of teens,"
says Michael Devlin, the rock hall's senior director of communications.
"It's a social phenomenon. . . . It's usually girls, at the onset of them
becoming women, screaming for these bands. And it's not a phenomenon of the
past. It's an ongoing thing, and the next generation is right around the corner."
Frank Sinatra and his bobby-soxer fans of the 1940s probably will open the exhibit,
which will include memorabilia and reminiscences from fans themselves.
Did you worship Ricky Nelson? Bobby Sherman? Andy Gibb? The hall of fame wants you.
Check the museum's Web site (www.rockhall.com) for information on how to submit
tales of luv or contribute souvenirs (remember The Monkees finger puppets?)
to the exhibit.
"It should appeal to all generations," Devlin says. "Parents will be able to
bring their kids in, and while the mom gets all weepy over Paul McCartney,
her daughter will be feeling exactly the same way about 'N Sync or O-Town."
By Jan Tuckwood