FRIENDS!
&nbsp
Here are some friends of mine...Be sure to properly ooh and ahh over them!
(Click on thumbnails for closer view!)

These are some of the Clayton family cats from Georgia. At last count, there were about 13 members of this family! Whew!

&nbsp

Asra and Sarah Hollis live in Maryland. Asra definately has royal blood, don't you think? And a different type of calico, too! She is quite beautiful!

&nbsp

This is the Gerald Family. Leo was a bit of a surprise. Their mother, Susan, is also a friend of that Davy Jones man...

&nbsp

The Beaudries are with a friend of my mom's...Jan Beaudrie

&nbsp

Royalty Indeed! Jet Sanderson is from Royal Berkshire, UK! Handsome, isn't he?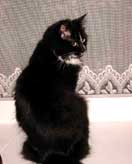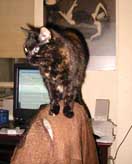 This is Gonga and Maya Gladstein. Here is their story!
These 3 lucky guys are the children of Dominique, an animal healer. Wow.

You've seen most of my beautiful friends. Please go now, and pay tribute to some of our family and friends who are gone, but not forgotten....

&nbsp


The Tribute Page
Myrtle Beach Website Design