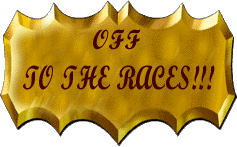 &nbsp
David has at least two horses, Market Neutral and Red Panda, who are trained in steeplechase. In November of 2001, My friend Jan Beaudrie and I were privileged enough to be able to attend two of these races that were held in Charleston, SC, and Camden, SC, respectively. In Charleston, we had a dream come true...no other fans heard about it in time to go. Though we were late, and missed Market Neutral's race, we did get to see Red Panda, and were treated to several hours by David's side.
Market Neutral came in 2nd in the first race, and Panda was 4th in the 4th race.

This kind of dream come true can only happen once, and so the following week at Camden, he was occupied with friends. But we got quite a few photos from both events, and I've posted the best of them here below. In Camden, Market Neutral came in 5th place.
The Race in Charleston!

CLICK ON THE THUMBNAILS FOR A REALLY LARGE PHOTO!

&nbsp

The Race at Camden! CLICK ON THE THUMBNAILS FOR A REALLY LARGE PHOTO!

&nbsp